Welcome to the website of composer, worship leader, and music educator Ron Mallory. To learn more about Ron's work, click on a link:



COMPOSITIONS >
A comprehensive list of Ron's published works, with links to ordering information.

WORSHIP LEADING >
Information about Ron's work as a Christian worship leader and church musician.

APPEARANCES >
Upcoming concerts, conferences, and festivals at which Ron will be appearing as performer, conductor, or instructor.


MULTIMEDIA >
Video and audio clips of Ron's work as a songwriter, worship leader, and conductor, as well as samples of his work in video production and visual arts.

SCIENCE >
Outside of music and the arts, Ron's primary interests include astronomy, physics, and the other sciences.

CONTACT >
Get in touch with Ron if you have questions or would like more information about his work.
---
BIO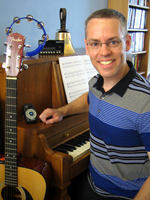 Ron Mallory is a versatile musician with a wide variety of skills and experiences. As a composer, he has more than 150 pieces in print and has won multiple composition contests. As a church musician, he has led worship and directed musical ensembles in congregations ranging in size from over a thousand to fewer than a dozen. As a music educator, he has taught in a variety of school settings, as well as at numerous seminars and conferences. Ron also has professional experience as a studio musician, jazz pianist, video producer, and graphic artist.
Ron has a master's degree in choral conducting from the University of Washington and a bachelor's degree in music composition from California State University, Long Beach. He is active as a full-time musician in the Seattle/Tacoma area where he teaches music classes at Forest Ridge School of the Sacred Heart. His non-musical interests include astronomy, skiing, reading, and travelling. Ron lives in Maple Valley, WA with his wife Emily and their children Vivian, Miles, and Rigel. A lifelong Christian, Ron is always working to grow in his relationship with God.